Buddy joins ACME Hollywood Saturday Night as musical Guest 6/2. Live Broadcast. (link)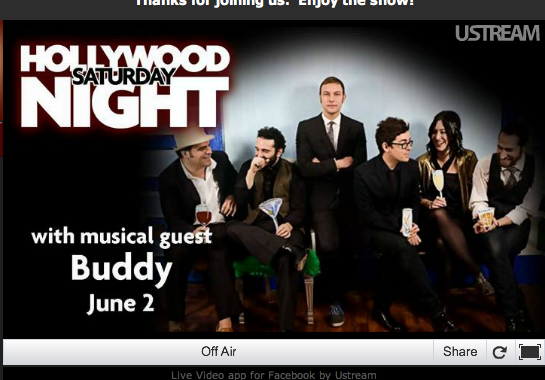 Buddy joins pro-footballer Matthew Willig at this weekends HSN show.
HSN June 2: Host MATTHEW WILLIG, Actor & Super Bowl Champion.
Musical Guest BUDDY.
The HOLLYWOOD SATURDAY NIGHT TV Show features celebrity hosts, musical guests, and brand new sketch comedy from top writers and performers at ACME Comedy Hollywood.
If you live in the Los Angeles area or are visiting Hollywood, be part of the studio audience and see the HSN show in person (get studio audience tickets here on LaughStub). Or tune in atwww.HollywoodSaturdayNight.com and catch the show live online at 8 PM Pacific, 11 PM Eastern.
NOTE: STUDIO AUDIENCE SEATING STARTS AT 7:30 PM and you must be seated before the live broadcast show begins at 8 PM.
TIX http://acme.laughstub.com/show_right.cfm?id=159540