Haley Pharo interview featured in The Examiner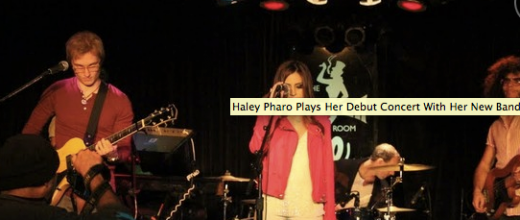 Is Haley Pharo The Next Katy Perry?
L. Paul Mann
Monday night February 25th was an unusually quiet night on Sunset Strip. But the legendary Viper Room sported a near full house for their weekly showcase of new bands. Singer songwriter Haley Pharo was on the bill, playing her first set ever. I met the young singer, for an interview, in the dimly lit dreary little VIP bar blue room. As I entered the room I called out to ask if Haley was there and she gave me a shout out. It took my eyes several minutes to adjust to the darkness, but finally I could make out the four figures in the room. Young Haley was there with her sister and mom and manager, Graham Kurzner. It was here that I had a conversation with all four of them while waiting for Haley's set to begin. They were all refreshingly gracious, articulate and upbeat people to converse with. The irony of my pleasant conversations being conducted in the bowels of one of Sunset Strip's most infamous nightclubs, loomed large in my psyche. I could imagine the hordes of self indulgent rock bands using the dark cavernous room, over the decades, as an escape from reality. The room most likely has been drenched in drugs,sex, and alcohol, more often than not. The club known as The Central in the 80's was known as the ground zero party club for underage rockers, including young members of Hollywood's brat pack. In 1993 a group of investors including Johnny Depp and Tom Waits turned the club into the trendy Viper Room, transforming it into a hangout for young adults and the Hollywood elite of that age group. When rising star River Phoenix collapsed and died there from a drug overdose, shortly after it was opened, it's reputation as a bad boy drug infused den of inequity was cemented. So in the VIP room where many of the jaded and faded rock stars preparing for their performances hung out, it was surprising to interview the tiny young Texan who turned out to be a clear headed, sober young lady with a plan and an old soul full of life experience belying her 23 years.
In our interview Haley encapsulated her life story and experiences leading up to the opening night debut. I am paraphrasing for perfunctory reasons, but in essence this is what the promising young singer had to say. Haley Pharo grew up in Dallas Texas and knew that she wanted to be a singer and songwriter by the age of seven. She gravitated towards the most logical musical outlet in her surroundings and began singing country songs at local oprys. "Thats where I learned to work with a live band", she says. But, it was during another remarkable life experience as a child that she began singing earnestly. Her father took the whole family on a four month trip down the Amazon river to do community development work. It was here while experiencing the third world first hand, that she began making up her own songs. The trip had a profound effect on young Haley and she would later, as a teenager, volunteer again to do community service work, this time in Africa. These priceless real world experiences may have been the catalysts in transforming the young songwriters' words into those of an old soul with something to say.
The young singer songwriter began her professional musical career with a simple but audacious plan. She was infatuated with Michael Jackson and his music so she went online searching for who might be Micheal's music coach and found out that it was Seth Riggs based in Los Angeles. She persuaded her father to call him and he conducted an audition over the phone. He was so impressed by what he heard that he invited her out to be his student in Los Angeles. With the support of her family she began to make frequent trips to LA, and it wasn't long before she became a resident California girl. From there her career began, like a slow motion set of sliding dominoes, falling quietly into place. A friend recruited her to sing in a choir that Michael Jackson formed to entertain at his Neverland Ranch. In a stroke of luck or divine intervention, whichever you prefer to believe, Jackson happened to be video chatting with the choir's producer, when he heard her singing with the group in the the studio. Her voice stood out and he asked the producer to pull her out to layer some vocals for the recording. Somewhere in the treasure vaults of Jackson's unreleased material is the song "From the Bottom of My Heart", featuring Haley's first professional recording on backing vocals. From there the snowballing musical fairytale began. Haley met a young back up singer for Justin Timberlake, who befriend her, brought her to shows and invited her to record some of her songs. From there she happened to meet will.i.am backstage, during a concertwhere Black Eyed Peas were opening for Timberlake. He also invited her to record and they produced a couple of tracks together including an unreleased duet. During the project rehearsal, famed producer King Logan heard her practicing and also tapped her singing and songwriting skills. Next she collaborated with Roy Hamilton who has produced hit songs for Britney Spears and they produced two songs together. Haley was now accumulating enough recordings to work on producing an album of her own. She began randomly receiving an immense amount of help, from talented people in the music business. Some of these included, Grammy winning drummer of Black Eyed Peas, Keith Harris, and a host of songwriters including, Brian Lee(Lady Gaga), Jim Beanz and J. Mizzle(Timbaland), Travis Garland and Jordan Gatsby (JoJo), and JD Salbego. She has also collaborated with keyboardist Nick White(Bright Eyes) and Buddy(Front man for the Indy band Buddy), for an alternate version of "Love Hangover". Andrew Dawson, who won a Grammy for his work with Kanye West has also collaborated with her.
Haley is now in the studio finalizing her new single "Waiting On You" with Katy Perry's mixer Joe Zook. Not surprisingly one can hear similarities to Katy's style in the song. I asked her if she was ready for the inevitable comparisons to the iconic Perry, and the young singer said she would welcome it because she idolizes Perry and her style. But is Haley Pharo possibly the next Katy Perry? In a word "No". Perry is very much a California girl, a product of her Santa Barbara (Goleta to be exact) environment, where she was raised and nurtured. Haley also is a product of her environment. Her southern Texas roots can be heard in her voice, with an Austin or even and Nashville tinge. And her life experiences from Texas and across the globe have given her a unique and distinctive "old soul" style in singing and songwriting, closer to Bonnie Raitt than Katy Perry in style and substance. As to the question whether Haley will become a successful pop star, the answer should be a resounding yes in a just and fair world. But in the magical world that is pop song hit making only the music fairy knows the answer to that question.
Performance: Haley played a showcase set of the songs she has been accumulating over the years during her many her collaborations, which she is preparing to transform into her first album. She was joined by a backing band of four talented and experienced young musicians. Kylen Deporter was on guitar and backing vocals (Emily Osment – also featured on the new Red Bull series 'exit vine'). Nik Hughes played Drums (Youngblood Hawk) -recently toured with Keane. Brady Leffler played Keyboards and backing vocals – (Hot Chelle Rae, Emily Osment). And Andrew Parusi was on Bass – (Eric Hutchinson, Frank + Derol). The band played a tight set and worked as a cohesive unit. Among the songs in the set were Haley's first single "Waiting on You", as well as a Katy Perry cover, and "Gunpowder" and "Double Deep". "Waiting on You" is a likable pop song comparable to a Katy Perry sound. The Perry cover, and for that matter ,the bands entire set, was well received by the crowd made up of predominantly young female adults. But it was on the darker and more intense songs like "Gunpowder" and "Double Deep" that the band really came together with their own brand of rock. Sounding a bit like my favorite new Los Angeles band, "Dead Sara", the group morphed into jam band territory, explosively rocking to Haley's strong vocals. Haley and her group of young musicians are definitely worth keeping a lookout for on the new music charts..